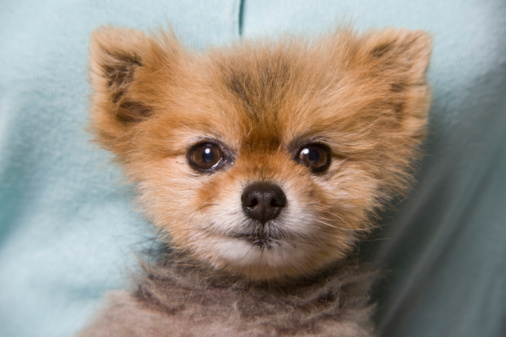 Do you live with a toy dog? Toy dogs are classified as being 20 pounds or less. I have some helpful hints for you if you're raising a little dog and you want to have a happy and healthy, well adjusted companion pet. First, keep in mind that a little dog views the world much […]
Read More...
---
A common complaint that people make when training their dogs using food rewards is, "my dog won't do anything that I ask him to unless I have food in my hand." Well, first you have to ask yourself if you've trained your dog to follow a command while you are showing him a piece of […]
Read More...
---
Ages 3 weeks to 12-14 weeks are THE most critical developmental stages of life for puppies – This is the SOCIALIZATION PERIOD. Dogs MUST BE EXPOSED to other dogs from ages 4 to 6 weeks. Dogs MUST BE EXPOSED to people from ages 6 to 12 weeks. Experts used to think we had until the […]
Read More...
---
There may be times in your dog's life when you need to use a muzzle. Teaching your dog to like wearing a muzzle is something every dog owner should do, not necessarily just for aggression problems, but in case you need to muzzle the dog in an emergency situation. God forbid, if your dog was […]
Read More...
---
Dogs are happiest when they know there are rules and boundaries to live with. But… it's imperative that we teach those rules to our dogs and not to take for granted that they already know them. Dogs that lack confidence in their humans to implement rules and define boundaries can become extremely anxious and stressed. […]
Read More...
---
It is vitally important that you begin socializing your puppies NOW! The window for socialization closes at 12 weeks. After 12 weeks, you will be doing remedial work and your dog may never reach his/her full potential for being a normal, friendly dog! Gradually introduce your puppy to all sorts of people: tall people, short […]
Read More...
---
If you are the kind of person who doesn't like setting rules down for your dog to follow, then playing tug is not a good game for you to play. Tug of War is a very competitive, but excellent game to play if you want to teach your dog to have self-control. Many trainers and […]
Read More...
---
This article addresses fearful dogs, but not dogs who will automatically go into attack mode at the sight of a stranger!! If you live with a dog who displays this behavior, please contact a professional in-home behaviorist/trainer to work on this issue! The dogs I will be describing below are dogs who choose a flight […]
Read More...
---
If you're having problems housetraining your puppies or older dogs, are you: Leaving your dog's food bowl full all day long? "Free feeding" prevents your dog's digestive system from having a specific schedule of elimination. Your dog is not a cat! Feed your dog a good quality dog food and feed him twice/day. Keep his […]
Read More...
---
One of the biggest mistakes that young couples make is failing to get their dog used to having a new baby live in the house, when the dog has been an "only child." Sometimes the "new arrival" is seen as an intruder into the pack, and this can have disastrous effects. Here are some very […]
Read More...
---