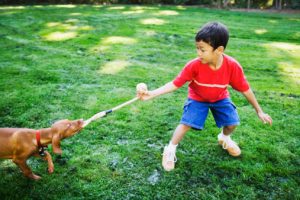 If you are the kind of person who doesn't like setting rules down for your dog to follow, then playing tug is not a good game for you to play. Tug of War is a very competitive, but excellent game to play if you want to teach your dog to have self-control. Many trainers and vets advise people to avoid playing tug because "it will make the dog aggressive." Believe it or not, I taught my own very aggressive Border Collie to stop biting and use good self-control by allowing him to play his most favorite game in the whole world — Tug of War! If played correctly by using very strict rules, your dog can enjoy tugging with you for hours, if you want to play for hours. As you will read below, at no time during this game is your dog permitted to put his teeth on your skin — even if it's an accident. If your dog mouths you, the game must stop. If you don't want to follow through with playing by the rules, avoid playing this very fun game. Here are the rules to follow:
Does your dog have a drop it command? If not, first teach him to drop things out of his mouth by placing a treat over his nose when he has a boring toy in his mouth and say "drop it" as he opens his mouth to take the food. Praise him and give him the toy back. As he gets better and better at this, begin having him drop more valuable items out of his mouth, like his chew bones.
---
Start the game off by commanding the dog to sit!
Ask the dog, "wanna play tug?"
Cue him to "take it." and then give it to her
Play for a little while, and then ask for a "drop it." The dog should have a bomb-proof drop it and should release the toy immediately. If the dog doesn't release it, just hold onto the toy and don't pull on it or look at her. She'll realize that "well… this is boring" and then should release the toy. Praise her for the release, but put the toy away.
You can re-start the game in about 5 minutes or so (this serves as a time-out for her ignoring the drop it command.
Play again, and then ask for a drop it. If she drops it, praise her and give her the toy immediately with a take it command.
It's recommended that once in awhile, after commanding her to drop it, that you do a couple of obedience maneuvers before re-starting the game.
With any dog who has shown aggression toward an owner or other humans, never let that dog win a round. If you find that sometimes the dog has gotten the best of you and was able to pull the toy out of your hand, let her think you planned it that way, and say "Take it!"
Whatever toy you choose for playing tug should always be put away and out of the dog's reach. Remember that it is your toy, as are all others. Put the toy away until YOU decide when to bring it out again.
If the dog makes any mistakes, like touching your skin with her teeth, the game ends immediately, the toy gets put away, and she gets ignored for about 3 minutes or so. Wait several hours after a mistake like that before re-starting the game. Then, put the toy away.
Note: If you are playing tug with a puppy, do not pull too hard. Your puppies teeth are not strong enough yet, and you do not want to strain or sprain any of your dog's muscles, tendons or ligaments. When playing tug with puppies, do not jerk her head from side-to-side. You may cause spinal misalignments in a very young dog. Allow your dog to pull in any direction she feels comfortable. Let her do most of the pulling. Have fun 🙂