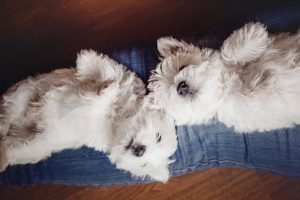 So… you want a new puppy. You look for breeders, you research online and you see pictures of the most adorable puppies being offered, you see a picture of a pup and you're all excited to go see it. The breeder brings out your puppy of choice, along with a litter-mate. These pups are the last to be sold. Breeder tells you how attached the two puppies are, and it would be really sad to separate them. Your heart melts and you return home with two dogs.
You place both pups into one crate. When feeding the puppies, you put their food into a single bowl for both of them to eat. You allow them to be together all day and love to see the strong attachment they have toward each other.
Around the age of 4 1/2 to 5 months, you begin to notice the puppies are squabbling with each other. One puppy is always trying to steal the other one's chew toys. That same puppy gets very upset when his sibling is getting attention from the humans in the house. When eating their meals, that same puppy will not allow his sibling to approach the bowl until he's finished eating. One day your two loving dogs are having more serious fights, even when they're in the crate! Suddenly you realize you need help from a professional.
One of the puppies has become a bully, and his sibling has no self-confidence at all. "Littermate Syndrome" is very common! If you think your own dogs are suffering from this you should read this article:
Littermate Syndrome: The risky downside to raising sibling puppies