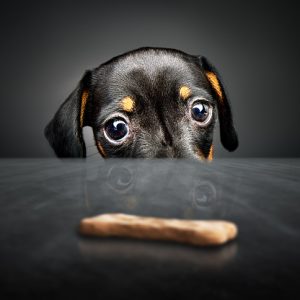 A common complaint that people make when training their dogs using food rewards is, "my dog won't do anything that I ask him to unless I have food in my hand." Well, first you have to ask yourself if you've trained your dog to follow a command while you are showing him a piece of food while you're asking him to do something. If you have that food right in front of the dog's face, your dog will see that food as being part of the entire cue for doing that particular behavior. That's why he isn't following your request when you omit that cue.
You may be at a point in your training where your dog is doing a particular behavior very well every time you ask him for it. Figure out what behavior(s) your dog is excelling at, and begin putting that behavior on a "Random Reinforcement Schedule."
Have you ever sat in front of a slot machine? If you have, you know that sometimes the machine pays you, and sometimes it doesn't. Sometimes we might win 50 cents and sometimes we might win 50 dollars. A random reinforcement schedule is based on the "Slot Machine Principle" which states, "sometimes you get paid and sometimes you don't!"
I'm going to give you a random reinforcement schedule below to help get you started. You can then develop your own random schedules as your dog gets further along with other types of rewards. These subsequent RR Schedules should use less and less food treats and more of other types of rewards.
Ideas for other types of rewards could be:
Belly Rubs.
Praise
A short game of Tug
A short chase game (he chases you)
A short game of fetch
A chance to chase a squirrel
Chasing a squeaky toy
Make a list of all the things your dog loves and use them in your reward schedules. Here is your sample of a Random Reinforcement Schedule. The numbers listed are those times that a dog does a behavior in which he is rewarded with food. All other times are rewarded with alternatives.
1, 3, 6, 8, 9, 10, 13, 15, 18, 21, 22, 23, 26.
Here's one more to follow:
2, 4, 7, 10, 12, 13, 15, 18, 19, 20, 22, 25, 26.
By: Renee Premaza