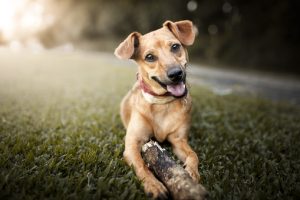 If you're having problems housetraining your puppies or older dogs, are you:
Leaving your dog's food bowl full all day long? "Free feeding" prevents your dog's digestive system from having a specific schedule of elimination. Your dog is not a cat! Feed your dog a good quality dog food and feed him twice/day. Keep his food bowl down for no longer than 20 minutes. Whatever he doesn't finish within that time period, put the rest away and add it to his next meal.
You need to take your dog outside onleash for elimination everytime you think he has to go. This way, you'll be able to monitor what he's doing and what he's NOT doing. If you just let him out and don't watch him, how will you know if he's done his business?
Take your dog out:
First thing in the morning
Within 5-10 minutes after every meal
Immediately after every nap
Take your dog out after being played with for awhile. This is very stimulating to many dogs and they will need to eliminate soon after something exciting happens.
Take the puppy out on an average of every 45 minutes to an hour. You might want to keep a log on this to determine just how often he needs to go from how many times you can get him to eliminate when you take him outside. If you have an older dog, you can lengthen this to every hour to hour and a half.
Before taking the dog outside, say to him, "wanna go potty?" and bring him outside on leash to your designated spot. Keep treats on you, so you can reward the dog immediately after he does his business. Within half a second after your dog pees or poops in the right spot, offer a treat and praise him to the skies. You can reward good house training behaviors by then letting him run around outside with you or taking him for a walk or run. Throw him a puppy party ANYTIME he eliminates in his spot.
Caution: Avoid giving your dog his treat reward when you go back in the house. All you will have rewarded him for is going in the house! A reward must be given with 1/2 second of the behavior for the dog to learn what it was that he was being rewarded for.
If you're out with your puppy for awhile and he's been running around and playing, make sure you bring him back to his "toilet" area before going inside. He might have to go again.
When you've established a fair amount of success in getting the dog to go in this spot, begin putting a command word on the behavior. For example, when you bring the dog to his spot, as he starts to eliminate, say your phrase, like "go potty." Then reward him with a treat right after he's finished.
If you cannot keep your eye on him all the time, (1) put him in his crate, or (2) tether him to your waist with his leash or long-line.
Watch him for certain signals that he may have to go: (1) sniffing the floor, (2) looking a bit anxious or worried, (3) coming to you and just staring at you, (4) preparing to squat or lift leg, acting excited and a bit obnoxious.
Caution: Don't expect young puppies to clearly indicate when they have to go potty! Look for more subtle signs as listed above in item 10.
Take the dog outside to potty before bedtime.
IF YOU TAKE HIM OUT AND HE DOESN'T GO, FOLLOW THESE PROCEDURES:
Do not allow him to play outside.
Bring him inside and put him in his crate for 15 minutes to 1/2 hour. This is not a punishment. Give him a toy or a chewy to occupy him until you take him out again for another try.
Take him out again, and repeat all procedures you've been instituting. (generally, the dog will go after having been crated for an additional 1/2 hour.)
Please be aware that it is more difficult to train a toy or miniature dog. These tiny dogs have very small bladders and need to be taken out much more freqently.
DO NOT PUNISH HOUSE TRAINING ACCIDENTS!
When adopting shelter or rescue dogs, you may experience housetraining accidents in the very beginning. Just implement these procedures to get the dog back on the right track. Keep in mind that sometimes our dogs regress in housetraining because (1) they may have a urinary tract infection; (2) they may be experiencing separation anxiety; (3) females that have been altered may develop spay incontinence. Speak to your vet and he can give the dog medication to control this; (4) male dogs may mark on vertical surfaces and females may also mark as a way to establish territory. Within a multi-dog household, you should reduce competition for resources (food, toys, you), by teaching the dogs that you all good things come from you and belong to YOU, not them. Use good leadership skills and your dogs won't feel the need to be competitive with one another.
The success of teaching a dog to go potty outside depends on your management of the situation.
By punishing the dog, he will not learn that going outside is what you want him to do. Punishment will only teach him that you are dangerous. This can result in a dog that will (1) refuse to potty outside in the presence of his owner; (2) come inside and eliminate where nobody can see what he's doing. Dogs that are not completely housetrained and still have accidents in the house are not spiteful dogs! They are merely looking for an absorbent surface to eliminate on without suffering the consequences of being threatened. Management is key in housetraining any dog. If you don't have the time to watch your dog or take him out very often, you're going to have a much harder time of housetraining him!
REWARD ALL GOOD BEHAVIOR AND THAT BEHAVIOR WILL INCREASE!