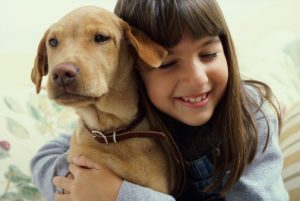 Dogs are happiest when they know there are rules and boundaries to live with. But… it's imperative that we teach those rules to our dogs and not to take for granted that they already know them. Dogs that lack confidence in their humans to implement rules and define boundaries can become extremely anxious and stressed. All sorts of problematic behaviors develop in our dogs when we spoil and coddle them, when they're allowed up on furniture, such as beds and sofas without getting our permission first, and when we allow them to practice all sorts of inappropriate behaviors as puppies because we think they'll just grow out of it. Remember that "practice makes perfect." If dogs get to practice all the wrong things, serious behavior problems will be the end result.
Show good leadership skills by NOT punishing your dog! Hollering and screaming at dogs, hitting and smacking them with newspapers and pointing fingers at them saying "BAD DOG!" will not teach them to behave appropriately. These tactics will only teach your dog that (1) you have poor leadership skills, (2) you can't handle him, (3) you can't make good decisions for her, and (4) you can't be trusted. Implement the following program and your dog will become a well-mannered and polite companion pet.
Do not give your dog attention when he/she demands it! Do not allow your dog to jump all over you or push his/her toys into your leg. Do not give your dog attention or affection when he jams his nose under your arm. Do not give your dog attention when he paws at you or he barks in your face or if he mouths you. If any of these behaviors are part of your dog's daily routine, learn to remove yourself immediately by walking away from him/her every time he/she behaves in a pushy and demanding manner.
Teach your dog to sit and look up at you the first time you ask him without repeating "sit, siT, SIT!" You can teach this effectively by giving him a treat when he sits and looks at your face during the first week of your training. Once your dog knows how to sit and focus on you, here's how to establish a structured and predictable life for him:
1. Sit & wait before getting all meals (avoid all free-style feeding).
2. Sit before getting any treat (never offer a treat just because your dog is cute and he's breathing).
3. Sit before getting a new toy or chewie.
4. Sit to get the leash put on.
5. Sit & wait before going out the door (don't let your dog drag you out or push past you!)
6. Sit before coming back in the house from a walk
7. Sit before you initiate any games with him.
8. Sit before getting in the car (put him in a seatbelt harness for his safety!)
9. Sit & wait before getting out of the car (wait helps keep your dog from bolting out).
10. Sit & wait to get out of his crate (he should wait for your release ("OK")- not for the door to open)
11. Sit before getting anything he wants or needs in his life.
12. Sit before being allowed to sit on the sofa (or bed)* You may want to think twice about giving this privilege in the first place! Remove this privilege if your dog is showing any aggressive behaviors.
13. Your new motto should be "SIT HAPPENS!" You will notice that your dog is a lot calmer after about a week of living with this structured and regimented routine. He will begin to offer sits on his own, which tells you he is actually asking you for permission!
© Renee Premaza 2009