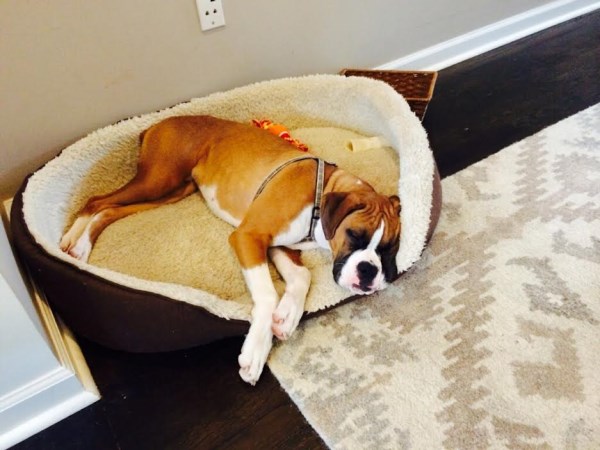 This picture is of "Gino" DeCarlo. He is a very tired & happy 6 month-old Boxer who just had lots of mental stimulation. He wants you to know that A TIRED DOG IS A GOOD DOG!
Does your dog spend much of his day running around your house stealing your underwear and chewing your shoes? Do you go out in your yard and discover that he's tried his hardest to dig to China and beyond?  Have you gone practically bald pulling your hair out trying to figure out why your furry friend is doing these things?  Well, I'm here to tell you, he's more than likely bored out of his little mind. So what's a pet parent to do?
It's really important for all of us who live with dogs to provide both physical exercise and mentally stimulating activities for dogs. We need to be challenging our dog's mind by directing his attention to interesting stimuli rather than his having to create ways of exercising and entertaining himself inappropriately.  Afterall, dogs were originally bred to do a job of some kind, whether it's herding sheep, hunting birds and other prey animals, performing in the show ring, protecting property and even sitting pretty on the laps of royalty.
Your dog should be walked regularly to facilitate continued socialization with people, places, other dogs and his world at large. So many people think a dog shouldn't be permitted to sniff the ground, but that's not true. Let your dog sniff during your walks. Mind you, he doesn't have to smell every blade of grass, but give him opportunities to use his nose to figure out who has been at that very same spot and to discover if it was a male or female dog, or a cat or some other critter that may have visited the neighborhood. Teach your dog to sit politely when someone approaches to greet him while you're out walking together. Do some obedience training during your walks, like teaching him to look up at you when you say his name, or training him to touch the palm of your hand, which can help keep him walking right by your side on a loose leash. I like to train dogs to stop and wait at curbs until I give a cue to move forward. The more you pay attention to your dog, the more he'll pay attention to you.
I believe more than 50 percent of dog behavior problems are caused by extreme boredom.  There are lots of sports activities that you could actively participate in with your dog, such as agility, flyball, canine freestyle (dancing with dogs), hiking, herding and hunting.  If your time is limited to consider the above, there are activities you can do right at home.
If you have a dog who loves to dig, you can purchase a child's sandbox and bury all sorts of goodies in the sand for him to dig up and enjoy. Bury some biscuits and inexpensive stuffed squeaky toys so he'll be so excited to dig in that sandbox and won't even bother with digging up your prized vegetable garden.  Keep things interesting for him by rotating the toys you bury in that sandbox each day so he'll always be interested to see what treasures he might uncover when he's digging.  Make use of your dog's innate instincts to want to dig and explore.
If you have a herding dog or a super energetic dog, there's a fantastic interactive dog toy on the market just waiting for you to bring home to that energizer bunny you live with.  It's called a Flirt Pole or Push 'n' Pull.  It looks like a fishing rod and it has a fleece lure at the end of it. You can entice your dog to chase after that fleece toy as you keep moving it in all different directions, as well as raising it up high and then lowering it.  Be kind and let him grab the toy once in awhile to keep him very interested. Trust me that you won't have to break a sweat while playing with your dog and the Flirt Pole: http://www.amazon.com/KONG-Chase-It-Squeaking-Assorted-Characters/dp/B00AEJANCW/ref=sr_1_3?s=pet-supplies&;ie=UTF8&qid=1384561833&sr=1-3&keywords=flirt+pole+for+dogs
Have you used your muffin tin lately? Maybe it's buried underneath your tupperwear containers and all those lids that don't seem fit any of them 😉  Take that muffin tin and put an especially tasty treat at the bottom of each opening. Then get some of your dog's favorite toys to sit on top of each of those treats. Call your dog over and encourage him to sniff around the muffin tin. Get all excited and clap your hands when he picks out one of those toys and uncovers a treat. Then get him to do the same thing with all of the toys sitting on top of the muffin tin.  You'll never guess what this activity is called; "The Muffin Tin Game." Check out this video to see how busy and happy your dog will be when he's playing this really fun game:  http://www.youtube.com/watch?v=fhIWa_W3QxY&;feature=related
One of the dogs I've recently worked with is a very smart and energetic Boxer who has separation anxiety. One of the owner's complaints about her dog was that he would destroy anything made out of cardboard she might have around the house. I smiled and I looked over at the dog who seemed to be smiling back at me. I told my client to go to the supermarket and get some cardboard boxes to leave with him in his room when she had to leave him alone. All he had to do to earn getting the boxes everyday was to sit, and then do a handshake with his mom. She'd then toss a box or two into his room and told him to "go find it." I had her tape him for a few days after she implemented this protocol and she said he seemed very pleased with himself after he got to rip them all to pieces. Yay!
Do you have a dog who likes to tip his bowl over and then his kibble goes all over the place? Have you noticed your dog takes pieces of kibble out of his bowl and then brings them to a different area to eat? I have a very unscientific theory that these dogs are actually "pretending" to hunt for their food. Hey, nobody says a dog has to eat his food out of a bowl. The only reason we feed them out of bowls is because we humans eat out of dishes! There are several different types of food-release toys on the market that would enable your dog to hunt for his meals. Why not use one or two of these when it's time to offer Fido his breakfast or dinner.  Click on these links to see what food-release toys and games your own dog would enjoy:
http://www.amazon.com/KONG-Classic-Kong-Dog-Small/dp/B0002AR15U/ref=sr_1_5?s=home-garden&;ie=UTF8&qid=1295991064&sr=1-5
http://www.amazon.com/Omega-Paw-Tricky-Treat-Large/dp/B0002DK26M/ref=sr_1_24?s=pet-supplies&;ie=UTF8&qid=1314199559&sr=1-24
http://www.amazon.com/Kong-PW1-Wobbler-Dog-Toy/dp/B003ALMW0M/ref=sr_1_1?s=home-garden&;ie=UTF8&qid=1297989832&sr=1-1
www.amazon.com/KONG-Chase-It-Squeaking-Assorted-Characters
http://www.amazon.com/Deer-Antlers-Dog-Chew-Treats/dp/B004YFY0Q2/ref=sr_1_5?ie=UTF8&;qid=1417195034&sr=8-5&keywords=deer+antlers+for+dogs
http://www.amazon.com/BULLY-STICKS-Standard-Regular-Downtown/dp/B004B3W4N8/ref=pd_sim_petsupplies_2
I hope I've given you some good ideas for keeping your canine companion happy and busy.  Always remember how important it is to keep your dog mentally stimulated and physically exercised.  If you do, I strongly doubt you'll ever need to call me or any other behavior consultant because your dog is destroying things in your home or because you're convinced he's become out of control.  Trainers have a favorite expression; "A tired dog is a good dog!"
Renee Premaza
Copyright: 2012